Scholarships
Main Content
Army ROTC is the best leadership course in America and we're looking for scholars, athletes and leaders to become future Army officers. The program is based on college electives and activities that you take right along with your other classes.  But ROTC is like no other class you'll take.
In Army ROTC, you develop your leadership abilities.  There are activities such as rappelling and survival training to help increase your self-confidence and discipline. Your studies may include time management, communications, and small-group decision-making. Ultimately, you'll learn about the Army and what it takes to become an officer.
Whether you're a college-bound high school student or already attending a college or university, Army ROTC has scholarships available. Scholarships are awarded based on a student's merit and grades, not financial need.
Army ROTC scholarships consist of:
Two-, three-, and four-year scholarship options based on the time remaining to complete your degree
100% tuition/fees OR room/board (if eligible)
$600 per semester book allowance
Army ROTC Living Learning Community Room and Board Scholarship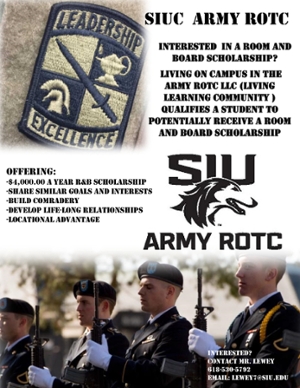 Living Expenses
Army ROTC scholarships also provide monthly living allowances for each school year.
Monthly stipends rates are based off of the Military Science year. Cadets only receive stipends while classes are in session. 
MS I-$300 per month
MS II-$350 per month
MS III-$450 per month
MS IV-$500 per month
This allowance is also available to all contracted non-scholarship Cadets (Note: Non-scholarship cadets cannot contract until their Sophomore year)
To Apply:
Schedule an appointment with Mr. Shannon Lewey to find out more about the application process, benefits, and commitments.  
High School Students - If you think Army ROTC may be right for you but have some questions, we can help you find the answers.
College Students - There are several options available to those who are already in college and are now considering Army ROTC.
Enlisted Soldiers - Ready to make the switch to becoming an Officer? Explore your options.
Tuition Waivers
Southern Illinois University Army ROTC receives 40 Illinois State Tuition Waivers for each of the Fall and Spring semesters every year.  If awarded, 100% tuition and the General Activity fee will be waived for that semester.  The State of Illinois mandates Army ROTC award 10 per Military Science class.  Applications are distributed the first week of each semester and waivers are awarded mid-semester.  If awarded, commitment is to the Army ROTC Program for that semester; NOT to the Army.
Eligibility Requirements
All students pursuing an undergraduate or graduate degree who are residents of the state of Illinois, registered with Selective Service, and satisfy the criteria in a through h below are eligible to apply for this scholarship. Illinois ROTC programs will not award unused waivers to students who do not meet the eligibility requirements. Please see the IL Scholarship Standard Operating Procedure for more details along with the Illinois Code.
Applications for each semester (Fall and Spring only) are due to Mr. Shannon Lewey, Kesnar Hall Room 116.
Meet all academic requirements of their university and be eligible to meet all commissioning requirements (pre-qualify per AR 145-1) upon graduation and completion of Army ROTC.
Complete all DODMERB exams within the second semester of being awarded this scholarship. This must be completed in order for this scholarship to be awarded in subsequent semesters.
Maintain a minimum 2.0 cumulative GPA. Earn at least a 2.0 each semester and a 3.0 in Army ROTC. In the case of incoming freshmen who have not established a college GPA, the minimum standard is a 2.5 high school GPA and a score of 19 on the ACT.
Be a resident of the state of Illinois.
Students will achieve a score of 60 points in each event on the Army Physical Fitness Test (APFT) by the end of the first semester that the scholarship is awarded and maintain a score of 60 points in each event for every subsequent semester that the scholarship is awarded.
Be in compliance of the Army height/weight/body fat standards or show progress toward attaining the standards. Acceptable progress will be determined by the Professor of Military Science (PMS).
Enroll in an Army ROTC course as a cadet.
Attendance
Attend at least 95% of all required physical training, including APFT sessions.
Attend at least 95% of all required classes and labs.
Participate in the Field Training Exercise (FTX) for that semester unless excused in advance by the PMS.
For additional questions, please contact us.